People who eat a lot of fruits and vegetables as part of a healthy diet are likely to have a reduced risk of health issues like heart disease, heart attack, stroke and certain cancers. Each of the nine families of fruits and vegetables contain hundreds of different plant compounds that are beneficial to your health. Eating a variety of types and colors of fruits and vegetables can help give your body the nutrients it needs. There are many ways to add these beneficial bunches to your daily diet.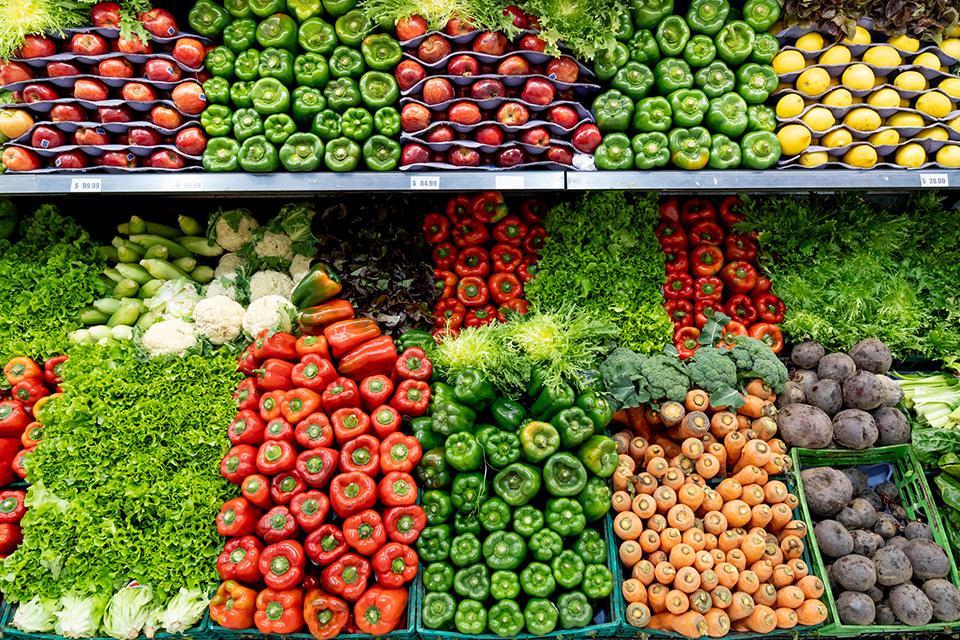 Vegetables
Add a few more slices of tomato, onion, pickles and lettuce to your sandwich or burger.

Replace cauliflower rice for half or all of the rice in your meals. Cauliflower rice is so easy to make and has a similar texture as rice. Grate a head of cauliflower or pulse the florets in a food processor. Then sauté it in a little oil until tender (about five minutes).

Top your pizza with vegetables like peppers, onions, mushrooms, artichokes, olives, tomatoes, broccoli, basil, etc.

Use a spiralizer to create noodles from vegetables. My favorite is making zucchini noodles (zoodles) to replace half or all spaghetti. Spiralizers are pretty inexpensive and easy to use.

Make veggie chips as a snack! Slice zucchini, sweet potatoes or beets very thin, toss them in a little olive oil with seasoning, spread them out on a lined baking sheet and bake them on 375 degrees for about 20 to 30 minutes, flipping half-way through.

Instead of choosing fries or chips as a side, get a side salad.

Use spaghetti squash as a substitute for pasta. The fastest way to cook spaghetti squash is in the microwave. Pierce the squash with a knife all around then microwave it in three to four minute intervals until it is a little softened. Carefully cut the squash in half (it will be very hot), scoop out and discard the seeds then scrape the sides of the squash with a fork. Toss with any sauce to make a low-carb, yet tasty meal!

Dunk raw veggies in hummus, light ranch dressing or a Greek yogurt dip.

Use a blender or food processor to make tomato, pumpkin or split pea soup.
Fruit
Top yogurt or cottage cheese with pineapple, berries or orange slices.

Opt for a fruit smoothie instead of juice. Add frozen fruit, plain yogurt and milk for breakfast or a snack.

Add berries or dried cranberries and nuts to your morning oatmeal.

Make apple chips as a sweet, crunchy snack. Slice the apples very thin, place them in a single layer on a baking sheet, sprinkle with cinnamon and bake at 250 degrees for about two hours flipping half-way through.

Dip sliced fruit in yogurt or peanut butter as a healthy snack.

Grill pineapple or peaches and top with a little whipped cream for dessert.

Top whole grain waffles or toast with peanut butter, sliced banana and cinnamon for breakfast.