Don't ruin a healthy salad by adding unhealthy or excessive calories. Many store bought dressings contain significant amounts of salt and saturated fats (think blue cheese or creamy type dressings). Reading labels is important — it's surprising how many dressings also contain added sugars! It's difficult to ascertain how much sugar has been added to dressings that contains fruit, it's usually one of the last ingredients on the label. Practice moderation when serving salad dressing — aim for approximately one to two teaspoons of dressing per cup of salad.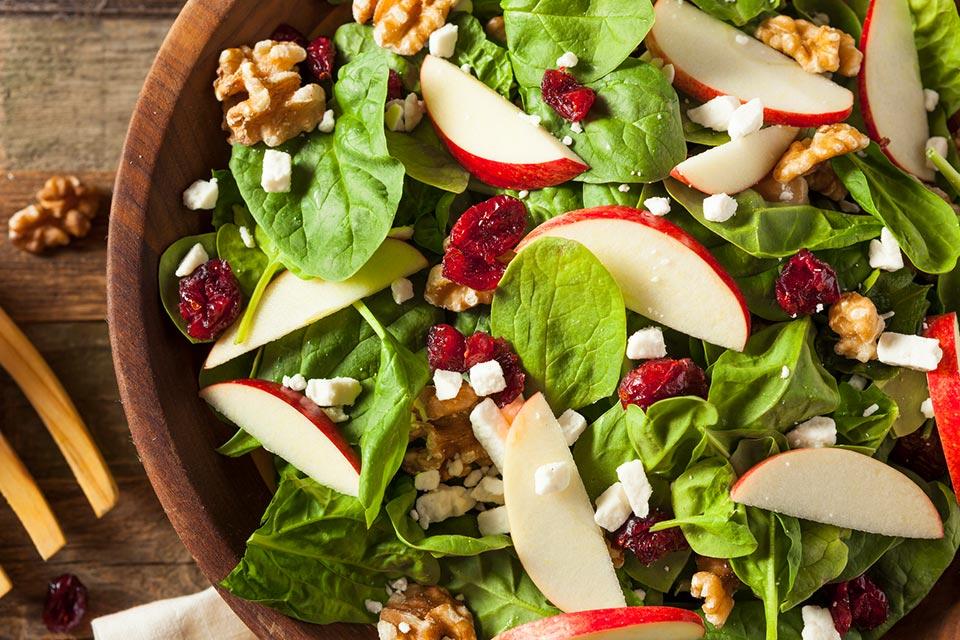 Salad dressing manufacturers can make claims that don't quite stand up to scrutiny. What are some claims to be wary of? Some labels make claims that their dressings contain omega-3 ALA — the healthy oil. Don't buy just based on that claim. Any salad dressing that has canola or soybean oil will contain about the same amount of omega-3 ALA.  A great way to increase the amount of omega-3 in a salad is to add fish (salmon, mackerel), nuts, pumpkin seeds, flaxseed or whole grains. 
Some salad dressings include statements like "helps absorb vitamins better." Any dressing or food eaten with a salad that contains a fat will help the body better absorb the vitamins in the vegetables. Be wary of "low fat" or "fat free" dressings. Typically, when fat is removed manufacturers add sugar to replace it. Your best bet is to buy 'full fat' dressings. The healthy fats actually help satisfy hunger so you will likely eat less in the long run.
For an extra healthy salad, add foods high in omega-6 fatty oils. A healthy dose of omega-6 fatty acids, also essential to a healthy diet, can be found in green leafy vegetables like dark green lettuce, kale and broccoli. Nuts are also a great source of omega-6 fatty acids to add to your salad.
Sources
Hurley J, Liebman B. Best dressed, make your salad sizzle. Nutrition Action Health Letter. May 2015.
Sherwood K. Dress to impress, Nutrition Action Health Letter. May 2015.