All Denver Health Medical Plan members will receive a Member Identification (ID) card upon enrollment. The ID card lists the most common services. Members will need to have this card with them when accessing care. For replacement cards, members can log into the Member Portal to request a new one or call Health Plan Services at 303-602-2100.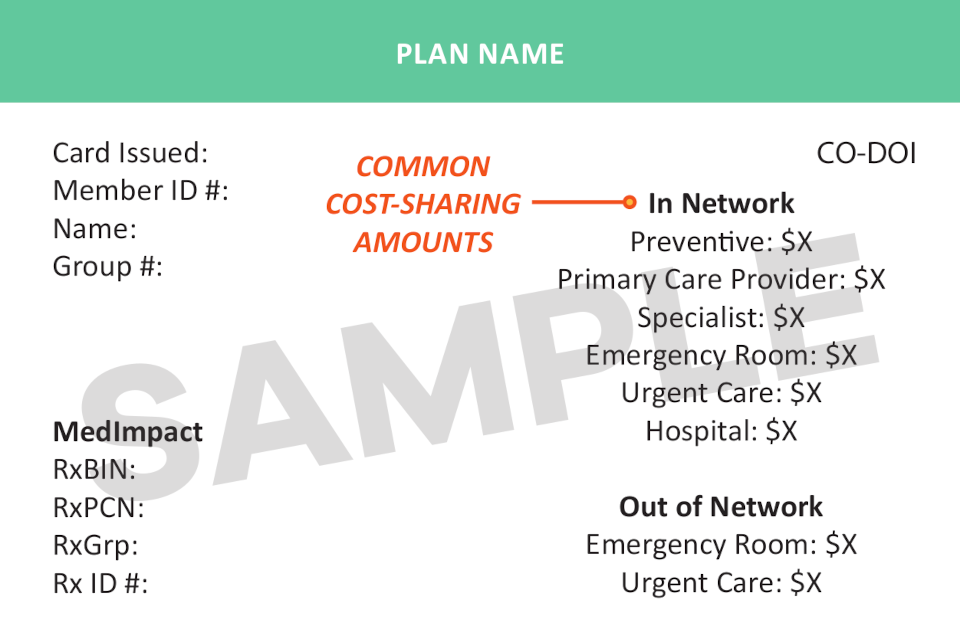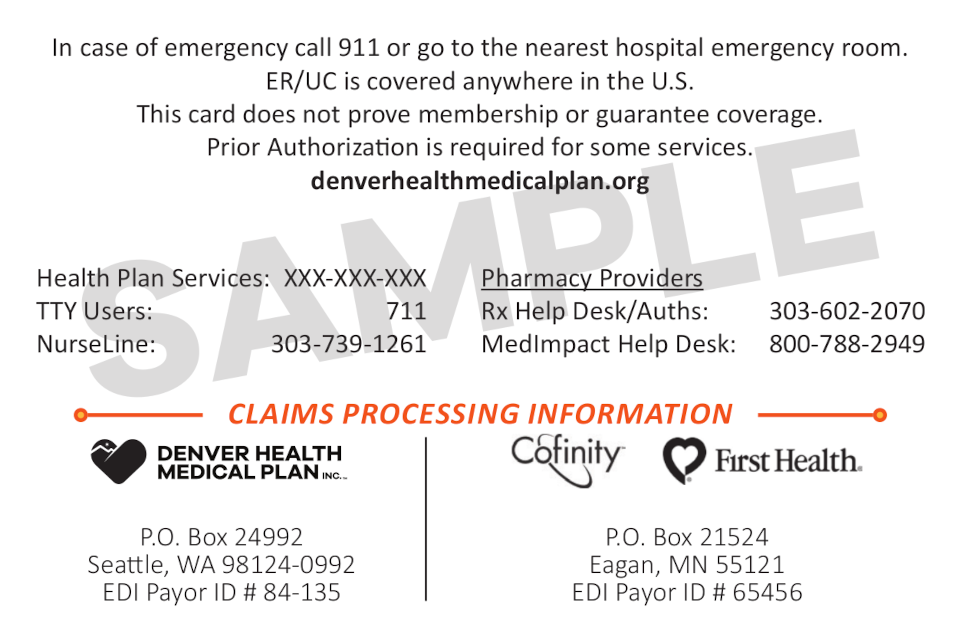 Color Legend
Teal Stripe - DHHA, Elevate City and County of Denver / Denver Police / DERP / Elevate Exchange
Orange Stripe - Medicare Select HMO / Medicare Choice D-SNP HMO
Blue Stripe - Medicaid Choice / CHP+
Definitions
Cost Sharing
The share of costs covered by your insurance that you pay out of your own pocket. This term generally includes deductibles, coinsurance, and copayments, or similar charges, but it doesn't include premiums, balance billing amounts for non-network providers, or the cost of non-covered services.
Group #
Each employer that purchases a health plan for its employees also has a number. This group number identifies the specific benefits associated with your employer's plan. 
Member ID
Each person covered by a health insurance plan has a unique ID number that allows healthcare providers and their staff to verify coverage and arrange payment for services. It's also the number health insurers use to look up specific members and answer questions about claims and benefits.
Network
Refers to a specified group of physicians, hospitals, medical clinics and other health care providers that your plan may require you to use in order for you to get any coverage at all under the plan, or that the plan may encourage you to use because it may pay more of your bill if you use their network providers (i.e., go in-network) than if you do not (i.e., go out-of-network).
Preventive Care
Preventive care visits/services are designed to keep you healthy or to prevent illness, and are not intended to treat an existing illness, injury or condition.
Primary Care Provider
The practitioner (physician, nurse practitioner or physician's assistant) that you choose from your plan network to supervise, coordinate and provide initial and basic care to you. The personal provider initiates referrals for specialist care and maintains continuity of patient care (usually a physician practicing internal medicine, family practice or pediatrics).
Rx
Prescription
Specialist Visit
Medical care rendered by a specialist (e.g. urologist, cardiologist) rather than a primary care physician.