Personal Support for You!
DHMP introduces myStrength
We all struggle with our moods at times. Anxious or depressive thoughts can weigh us down. Some of us may struggle with drugs or alcohol. Seeking help and focusing on your mental health is important.
Now you can use web and mobile tools
to help you get better and stay mentally strong.
myStrength is confidential--just for you. It offers personalized resources to improve your mood. Learning to use myStrength's gools can help overcome the challenges of drug and alcohol abuse.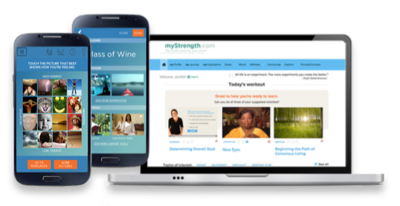 myStrength's proven web and mobile resources can
help strengthen your mind, body and spirit.
SIGN UP TODAY
1. Visit
www.myStrength.com
2. On the myStrength.com home page, click on "Sign-up."
3. For CSE/DERP, DHHA, DPS, DPPA enter the following Access Code: DHMPcommercial;
For Medicare Choice and Medicare Select enter the following Access Code: DHMPmedicare;
For Elevate enter the following Access Code: DHMPelevate.
4. Complete the myStrength sign-up process with a brief Wellness Assessment and personal profile.
5. Go Mobile! Using the access code above, get the myStrength app for iOS and Android devices at
www.myStrength.com/mobile
.
For more information or to sign up for myStrength, please contact us at:
Phone: (303) 602-2136
Email: healthandwellness@dhha.org